Wed in Tuscany, Rock Star Style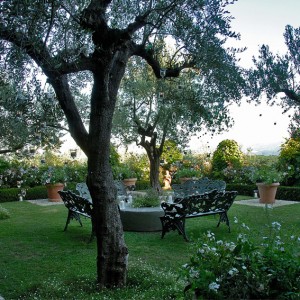 Interested in getting married in Tuscany? We've been there, done that! There are lots of things to navigate so we've got a whole website dedicated to sharing great style tips, hotels, menus, and legal issues about getting hitched in the Italian countryside. Check out Tuscan-Wedding.com and Buona fortuna!
FLORENCE, ITALY – Sting and Trudie Styler were married under the Tuscan sun at the Villa Il Palagio, the couple's rustic Italian countryside 16th century home located just an hour south of Florence near the medieval town of Figline Valdarno.
Perched high above rolling Tuscan hills, Il Palagio offers endless views of the countryside, vineyards, olive groves, blossoming gardens and an unparalleled biodynamic culinary experience in a truly restorative retreat.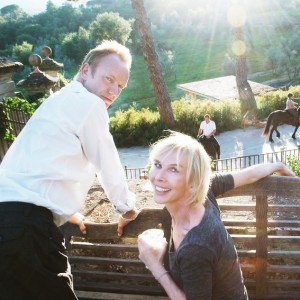 Since purchasing the property from a Duke in 1999, Trudie and Sting have worked with their team of experts to restore the villa to its once glorious splendor. Over the years, Il Palagio has served as the setting for many family occasions and private concerts. The couple has now opened the doors of their private retreat to those looking for the ideal destination to wed. With a cool loggia (a portico-type corridor) to relax on during long hot sunny days, a swimming pool overlooking the scenery, tennis courts, a serene lake for swimming, nearby stables, an airy chapel, many beautiful places around the house and gardens to relax and dine, guests can invite their friends and family to stay in Il Palagio's main villa, smaller houses within the grounds and two large villas nearby.
InStyle Magazine interviewed Trudie Styler to learn more about Il Palagio:
Can you tell me the history of Il Palagio and your family's history with the property?

Il Palagio has 17th century origins with addendums up to through 1958 including a chapel built by a previous resident, a bishop, where Sting and I practice yoga. Our history with the property backs up to about 20 years when we bought it from a Duke. It was in disrepair and we made our mission to restore the home, which is quite large and almost a village unto itself, to its once-glorious splendor. Together, we invested lots of love, time, energy and the finances to restore the villa, the many guest villas on the property and worked hard to make the land and its groves more alive; and the ground, more sustainable. Believing in the signifance of biodynamic principles, we cleaned the soil so that the seeds would be nourished, and the food taste as it should. Today, we have grown huge amounts of lavender, harvested wines and olive oils, and built homes for thousands of bees from whom we harvest honey. Il Palagio is alive and buzzing with all the years of hard work and expertise in robust, glorious spendor.

Why have you decided to open the doors of your home to others who wish to celebrate their milestones at Il Palagio?

When we made the move to New York and were no longer on the doorstep to Europe, it became out of the question to pop over for long weekends and for holidays with the children. Having spent lots of time and money restoring the gardens — it was ironic that once they came into their established selves, it was like "wow, no one is enjoying this as much as they should be." We have a wonderful staff who live and maintain Il Palagio, and we looked at each other said said, Why don't we share this? It's a place of rest, restoration, celebration, you name it. There is all kinds of potential: hiking, horse-riding, learning how we garden and farm in a biodynamic way, lots of things people can come and learn–wine-tasting, furthering their yoga practice. Something for almost anybody from all walks of life. It is an estate for all seasons, and we have had many memorable winter months in the sunshine as well.

Have you celebrated any of your own special milestones at Il Palagio?
The incurable romantic in me, I am literally there every wedding anniversary since we have had the house. Friends come and family are there — and I have even been known to put my wedding dress on! This is what Il Palagio can be at it's very best: there is no place better to get married or host a significant party to celebrate. There is so much, and so much of it, where you can find your place to celebrate that right of passage.

What are some of your favorite secret spots on the property?
There are two favorite spots of mine, and they both center around eating. The epicurean that I am. What's everything to me–the never-ending lunch table under the evergreen oak at Il Palagio. Underneath a tree that is over 300 years old and spreads its branches across a thirty-foot table, you can to cool, eat, and drink in the summer sunshine.

Equally, there is a courtyard in the back of the house where we have hung lights. It calls people, really, as Il Palagio is like a town: the courtyard becomes a piazza at night with fairy lights twinkling at night, with little tables that can seat up to 60 people or easily set for a dinner table for 20. It's very much alive, as little kids right their bikes, dogs bark, and you have a marvelous dinner, with singing and laughter. You can hear all the noises from the kitchen: Chef Joe and Paolo Rossi (who runs the estate) comes to the window like Romeo and Juliet and wave to the table and we offer cheers to them!

How is Il Palagio different from other wedding destinations?

Il Palagio is very much a home. I have made it my personal mission to make sure all the rooms are decorated in an individual way and that we run the villa as a home (never a hotel). Paolo Rossi, who cares and runs our home, was born in Villa Il Palagio, and his family's historical links with the property go back through the last century. His strong connection to the land is obvious in the enormous care and attention he gives to the olive groves, the vineyards and all the produce grown at Il Palagio. We all feel the longevity (and the care we have put into il Palagio) negates it being run like a hotel.

There is an important emphasis on well-being. It has all been thought through: restoring the gardens, cleaning the soil and up from the soil to nourishing the foods that we grow. You can really taste the difference — think holistically about everyday. We think of stomachs in great detail: People can devise their own menus, work with the chef. . . we offer gluten free breads, gluten-free pastas even in Italy. We can accommodate vegans, vegetarians, state of the art like that, you can say.

Can guests take home a piece of Il Palagio?
We are very proud to serve the things we create at Il Palagio. Several years ago we opened our own farm shop, we sell to visitors and locals, organic vegetables and eggs as well. Locals and visitors and tourists can buy our honeys, olive oil and six different wines. And we have ceramics, too: such as our olive oil in a lovely flask with Il Palagio inscribed on it so you can take home a tangible and quite delicious treat to remember Il Palagio.
Read more at InStyle Magazine.